Bad Ass Coffee lands in Colorado Springs area from the Big Island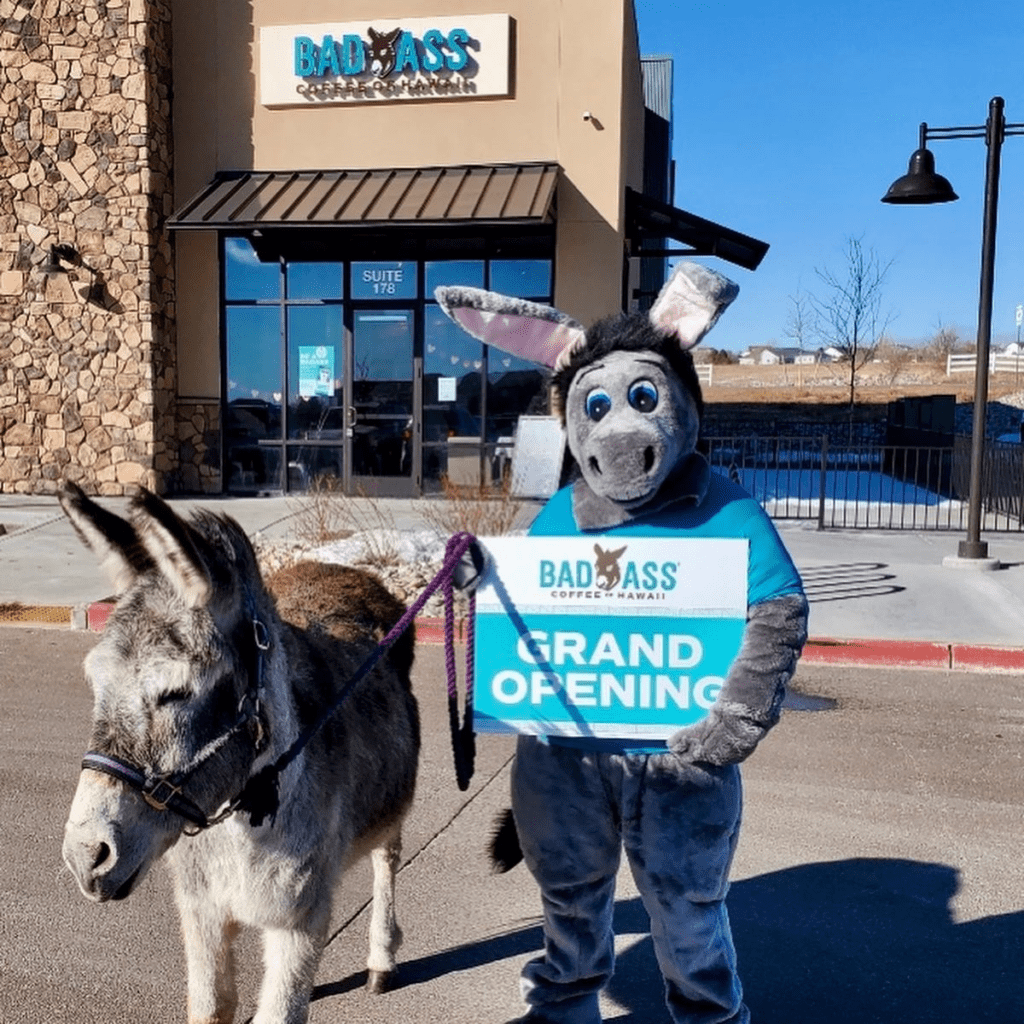 Coffee retailers have made their way to the Pikes Peak region from Seattle, Oregon and even Nebraska.
Now, one of the area's newest brands has arrived from Hawaii — via suburban Denver.
Bad Ass Coffee of Hawaii late last month opened its first Colorado Springs-area location in The Shops at Meridian Ranch, northeast of Meridian Road and Stapleton Drive in  unincorporated Falcon. It's the second Bad Ass Coffee in Colorado; the first opened in October in Denver.
The brand, founded in 1989 on the Big Island of Hawaii, takes its name from donkeys that gained a reputation as the "bad ass ones" because they reliably carried heavy loads of locally grown coffee beans down steep mountains, according to Bad Ass Coffee's owners.
Bad Ass Coffee made its way to the mainland when it was purchased in 1995 by a Utah businessman, who moved the company to that state. In 2019, Bad Ass Coffee was acquired by Royal Aloha Coffee Co. of Centennial, where it now has its headquarters.
Bad Ass Coffee specializes in 100% Hawaiian coffees and its menu includes international coffees, lattes, cold brews, espressos, blended drinks and teas. Among other items, a food menu features the Aloha sandwich made with ham, eggs, Swiss cheese, pineapple and sweet barbecue sauce served on King's Hawaiian bread.
Franchisee Lee Wilwerding, a veterinarian in the Colorado Springs area for several years who founded Powers Pet Emergency Services in 2005, said he's been a fan of Hawaiian coffees for years after visiting there. 
"I love coffee and I love Hawaii and I love Hawaiian coffee," he said. "I just think it is the best coffee there is."
Bad Ass Coffee OF HAWAII EXPERIENCES FRANCHISE GROWTH IN NEW MARKET, TENNESSEE