Bad Ass Coffee of Hawaii Franchise Featured in Shopping Center Business Magazine
Business publication praises the redesign of the first rebranded store which pays homage to the Hawaiian coffee franchises' roots
Shopping Center Business Magazine loves Bad Ass Coffee of Hawaii's new store design – and there's a lot to love. The new store pays homage to our Hawaiian roots, while updating the look and feel for maximum comfort and chic. 
Under the new visionary leadership of Royal Aloha Coffee Company (RACC), the iconic Hawaiian coffee franchise opened its first rebranded location in West Jordan, Utah in June. The location not only features a new inspired logo of a winking donkey, but also a Hawaiian in-store design that features walls that mimic the color of the ocean, furniture that is sand colored, as well as counters the color of volcanic ash. 
"The store is the first representation of what the brand is going forward," Scott Snyder, CEO of Royal Aloha Coffee Company, told the magazine. "All of the Bad Ass Coffee of Hawaii stores in the future will be represented by this look and feel."
Franchise owners with Bad Ass Coffee of Hawaii will be able to choose which design elements they'd like to implement to "personalize each store's look," according to Snyder. 
RACC plans to grow the iconic Hawaiian coffee franchise to 150 locations in five years. Currently, all of Bad Ass Coffee of Hawaii's stores are franchisee-owned, which allows them to become "positive members" of the communities they live in and serve. This begins with the company's Bad Ass for Good program, which supports Bad Ass Coffee of Hawaii franchisees through a myriad of initiatives including supporting healthcare workers, community charities and even the military with their "Cup O Joe" program. This program sends overseas US Military personnel free premium Bad Ass Coffee of Hawaii. 
"We expect our franchisees to be strong pillars in their communities," says Snyder. "'Bad Ass for Good' helps extend our aloha spirit into the local communities where our stores operate."
Click here to read more about this major announcement for the Bad Ass Coffee of Hawaii franchise.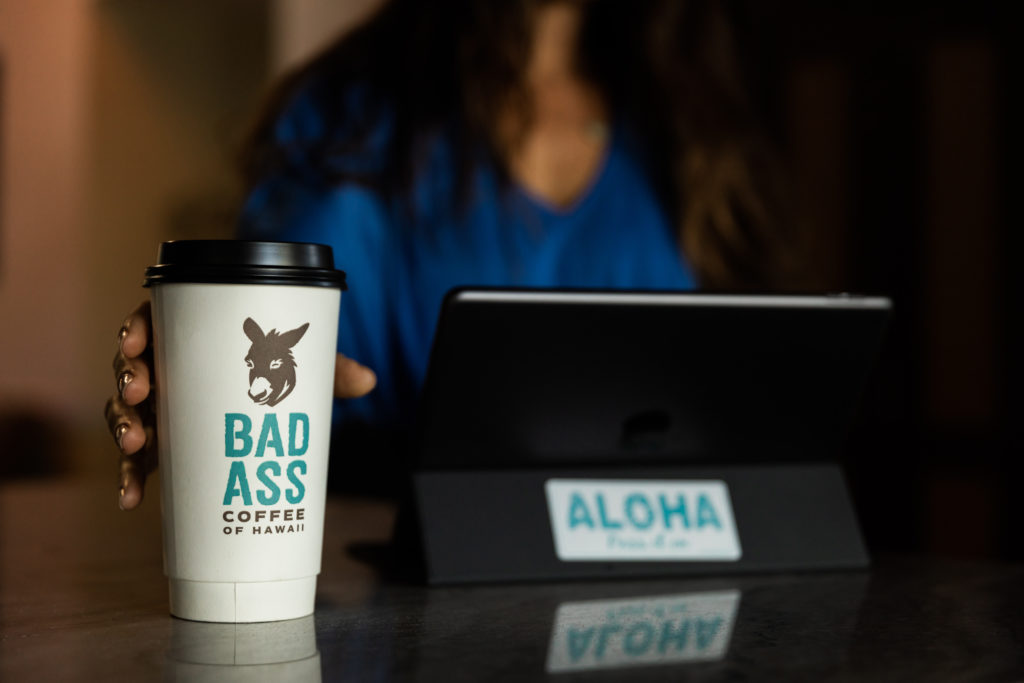 The leadership has continued its all-hands-on-deck approach to supporting franchise owners. They've upped their communication significantly, and are focusing their efforts on getting answers, providing advice, and offering ongoing coaching.
"It had to be reactionary in the beginning, but now we're focusing on actively coaching our franchise owners," Snyder says. "We're communicating with them on a daily and weekly basis. One of the advantages of being a small franchise system is that our franchisees know that they can call any one of us at any time – and if we don't have an answer for them, we're going to work until we do. We're focused on helping them sustain their businesses as COVID continues."
The success of the leadership team's ability to act quickly on behalf of its franchise owners is a testament to the franchise model itself. Independent operators had to figure out everything from how to get access to the Paycheck Protection Program (PPP) loans, to navigating changes to the supply chain, to keeping their staff and customers safe, as well as how to continue to be profitable, on their own. On the other hand, franchise owners with Bad Ass Coffee of Hawaii are now reaping the benefits of a strong support network. As the economy opens back up, our stores are seeing surging sales and winning over tons of new fans.
"We've got stores that are doing record breaking business today because we were able to stay open and earn new customers when other coffee shops were closed," Snyder says. "Our overall revenue is exceeding pre-COVID revenue. We're so proud of our stores and our franchise owners for how hard they've worked, how creative they got, and their commitment to stick with it. They're winning over new customers, and we're really excited about the future. Our success shows the strength of our business model, and it shows what's possible when we're united in our efforts."
Ready to invest in a Bad Ass Coffee of Hawaii Franchise?
To learn more about the Bad Ass Coffee of Hawaii franchise opportunity, simply fill out an inquiry form on this site, and a member of our team will be in touch with you shortly. We can't wait to learn more about you!