Why You Should Franchise with Bad Ass Coffee of Hawaii Instead of Starting Your Own Business
Owning a Bad Ass Coffee of Hawaii franchise is the ideal way to realize your dream of owning a community coffee shop
Coffee shops play a truly meaningful role in their communities. Not only are they the place where the 50 percent of Americans that drink coffee everyday can come and grab a cup, but they're also a place where people gather to work, study, hang out with friends, and feel like they're in a home away from home.*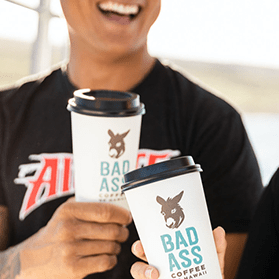 A good coffee shop brings people together.
But owning a coffee shop is a much different experience, especially if you're considering doing it on your own. Every decision is high stakes, from choosing a location, overseeing construction & buildout, choosing the decor, choosing the right beans, creating a menu, setting up your supply chain to ensure that your inventory comes in on time, implementing a system to manage your inventory – and we haven't even gotten to marketing your business, training your employees, and so on.
But there's an easier way.
Bad Ass Coffee of Hawaii exists to help entrepreneurs like you realize their dreams of owning a coffee shop in their communities. Our business model emphasizes ease of operations and maximizing profitability. We have world class support that helps you with all aspects of your business, including everything that we mentioned above and so much more. Our only goal is to ensure that your business continues to grow so that you can continue to serve the needs of your local community and foster a warm, inviting gathering space.
"What makes our family of franchise owners different is their involvement in their own community. That, alone, tells everyone they aren't just another corporate shop," explains Scott Snyder, CEO of Bad Ass Coffee of Hawaii. "They are independent business owners that flourish with the help of our procedures, but their ability to form authentic relationships is part of the paths to success. We provide the business model but they put in the hard work. We want our franchisees to use their local skills, talents and relationships to drive their own vision for success. I firmly believe that is one of our greatest strengths."
Taking advantage of the coffee franchise opportunity with Bad Ass Coffee of Hawaii means that you have a path towards success
Starting your own business is hardly the time or place to just "wing it." Generally, the success of any business is directly related to its business plan, but the success of a new business completely relies on it.
Owning a Bad Ass Coffee of Hawaii franchise means you have a proven and established system in place from the beginning. Our onboarding team provides all franchise owners and managers with comprehensive training, which ensures that you have everything you need to get off on the right foot.
Franchising with Bad Ass Coffee of Hawaii makes you a part of our 'ohana – that's Hawaiian for "family," and we never let our 'ohana' down. Franchising with our 'ohana' means you are joining a brand that exists to support you. In doing so, you can take comfort in knowing that you are acquiring more than a business – you're being welcomed into your second family.
In turn, your business will create its own 'ohana' of employees, regulars, and folks just dropping in for a quick cup of coffee. The service that you'll be able to deliver will create new opportunities for people in your area, as well as a hub for people to gather, relax and enjoy life one sip of coffee at a time.
"The qualities we want in our franchise owners are people that are in business for a reason," Synder says. "Socially, coffee shops are a sort of epicenter for people to gather. It's where people build relationships. Bad Ass Coffee of Hawaii is the perfect fit for someone wanting a definable role in their community that provides them the financial freedom to give back. There is a balance between your passion for something and your desire to impact. It doesn't have to be about coffee, it can be as much about community."
Ready to blend your passion with your business?
For more information about the Bad Ass Coffee of Hawaii coffee franchise opportunity, simply fill out an inquiry form on this website or give us a call. We can't wait to learn more about you!
*According to Coffee Statistics. (2020) from https://www.e-importz.com/coffee-statistics.php.