3 Reasons to Open a Bad Ass Coffee of Hawaii in 2021
Launch a memorable brand fueled by the warm and friendly Aloha Spirit and backed by nearly three decades of building the brand name
You can find a coffee shop in almost any size town, but not every coffee shop has the backing and support of the Bad Ass Coffee of Hawaii 'ohana and the authenticity that comes with a brand that has a nearly 30-year track record of sourcing and serving premium Hawaiian coffee.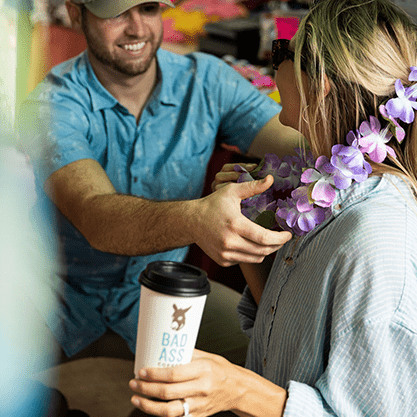 With today's work from home culture so prevalent, people are seeking a coffee experience, not just a cup of coffee. And Americans are drinking just as much coffee during the pandemic, averaging three cups a day, according to a study from the National Coffee Association. Mix in the fun, bold branding of Bad Ass Coffee of Hawaii and you have an experience unlike any in the marketplace…an experience that embodies the true "Aloha Spirit" from the moment you walk in to the second you sip your coffee, whether you enjoy it in our store, to go or at home.
'Ohana! That's Hawaiian for family. As a franchisee, we welcome you to our family in every respect. We take care of each other and want the best for our 'ohana," says Scott Snyder, CEO of Bad Ass Coffee of Hawaii. "We're committed to growing this brand by sharing the warm Hawaiian hospitality and culture of the Aloha Spirit in our stores and by selling American-grown Hawaiian coffees along with other premium international blends to coffee lovers everywhere."
Looking for a standout coffee concept in the $225 billion coffee franchise industry that is both personally rewarding and potentially profitable in the competitive coffee market? Here are three reasons why the Bad Ass coffee of Hawaii brand is a strong investment:
Bad Ass Coffee of Hawaii is a simple-to-operate and easy-to-scale business 
Bad Ass Coffee of Hawaii is a low-cost investment opportunity, from a simple footprint that is tailored to your location to optimize customer flow, sales and overhead. You just need a small staff to run your business efficiently. Additionally, our kitchens and equipment are designed for a growing food menu to help you meet the demand for food in your market. 
Moreover, Bad Ass Coffee of Hawaii is dedicated to helping our franchise owners prosper. This is why from the moment you sign your franchise agreement, you will never be alone. We've made significant investments in training and support and our exceptional leadership team is committed to providing you with the necessary tools and resources to ensure your business is successful over the long-term.
Bad Ass Coffee of Hawaii is a brand that stands out in the competitive coffee industry
Grabbing a cup of coffee is more than just getting a quick caffeine fix. For many coffee lovers, it is an integral part of their daily routine. Our beautiful new store design and new branding make Bad Ass Coffee of Hawaii a memorable, welcoming and fun place to enjoy a cup of coffee whether alone or with friends and family. We're known for bringing the very best of Hawaiian Coffees to coffee lovers everywhere, but we're best known for being one of the few to specialize in 100% single origin Kona Coffee – often referred to as the "King of Hawaiian Coffee".
Not only do we source and serve premium coffee, hand selected and roasted with the perfect cup of coffee in mind, but we sell fun Bad Ass branded merchandise so fans can show off their inner badass wherever they go. Your customers will help spread brand awareness in your community by sporting their favorite Bad Ass t-shirt or enjoying their coffee in their favorite go to Bad Ass coffee of Hawaii mug.
Joining the Bad Ass Coffee of Hawaii franchise network means you're never alone
We're here to help you succeed in every aspect of opening your store, from development and training to ongoing local marketing and support, a support system that was evident during the recent pandemic. Your success is our success, so we're committed to providing you with the expert advice, resources and support for the major areas of your operation to ensure that your business continues to grow.
Once you join our family you'll complete an initial 5-day training program at one of our stores 4-5 weeks prior to your store opening. This includes a combination of classroom and hands-on learning sessions. You'll be introduced to every element of store and business management, coffee education, drink and food preparation, point-of-sale usage, visual merchandising and more. We will be there to help you rollout a successful grand opening for your location.
Are You Ready to Become a Bad Ass?
For more information about the Bad Ass Coffee of Hawaii franchise opportunity, simply fill out an inquiry form on this website. A member of our team will reach out to you shortly to begin a conversation.